Have Questions? | Habe Fragen?
FENRIR Motorcycle Handlebar Bar End Mirror M16 Adapter CNC Aluminum alloy for MT/XSR/FZ/Niken/TMAX/XMAX/SMAX/XJ6/VStar/XJ/XJR/Majesty/Road Star
Out of stock
Many in stock
customers are viewing this product
Product Information
Item Code:801-0380

Product Name:Motorcycle Bar End Mirror Adapter

Process:CNC

Material:Aluminum Alloy

For motorcycles with M16 threaded inside handlebar end

Please note. This adapter is only suitable for FENRIR brand bar end mirrors. Not suitable for any other products.

The item can fit MT125/MT07/MT09(before-2020)/MT10/MT01/XSR700/XSR900/FZ6/FZ07/FZ09/FZ10/FZ1/


Niken/TMAX/XMAX125R(2006-2010 2015-2016)/
XMAX250R(2005-2010 2015-2016)/
XMAX400(2013-2017)/XJ6/VStar1100/VStar1300/VStar950/Road Star/Raider/
Roadliner/Stratoliner/Stryker/Royal Star/Majesty/SMAX/TDM850/TDM900/
XJ600/XJ900/XJR1200/XJR1300/XJR400/Maxam
Standard:
shipping to addresses in the United States , time: 4-10 work days
shipping to addresses in the Europe , time: 10-15 work days
shipping to addresses in the Japan , time: 5-10 work days
shipping to addresses in other country , time: 10-25 work days
Expedited:
shipping to addresses in the United States , time: 2-5 work days
shipping to addresses in the Europe , time: 3-8 work days
shipping to addresses in the Japan , time: 7-15 work days
shipping to addresses in other country , time: 7-15 work days
We understand that when you make an order, you want your gear as quickly as possible and we will do our best to make that happen! Most of the items we sell will ship quickly and be at your door fast. We own four distribution centers, one in US, one in DE, one in CN,and one in JP. Additionally, we work closely with our vendors in order to have the product shipped directly to you from their warehouse if that means you will get the product faster.
Items will have an availability status shown once a size/color is selected on the product page; this availability status will also be shown on the shopping cart page and in your order confirmation email. Most products will be marked "In Stock - Requires 1-3 work days of lead time prior to shipment". These products will ship within 1-3 work days, but if you select an expedited shipping method, please note that this will not reduce the lead time before the order is shipped.
Work days are Monday-Saturday; Holidays and Sunday are not included in shipping days.
While we will do our best to ship from the distribution center closest to you, not all items will always be in stock in every location at all times. In some cases we will split the order and ship each package out to you individually and in other cases we may need to consolidate the items in one location to ship out as one package. We utilize our best judgment in an attempt to get the products to you as quickly as possible.
A shipping confirmation email including carrier specific tracking information will typically be sent within 24 hours of an item shipping. For example, if you place an order Monday night and it ships out Thursday morning, you will receive your tracking information either Thursday evening or Friday morning.
International Shipping Terms & Conditions
Any import duties, taxes or brokerage fees due at the time of delivery are the sole responsibility of the recipient.
Order Cancellation
If you change your mind, act quickly! We turn around and process orders extremely quickly.
Once an order has a status of "Order Processed," it cannot be cancelled or modified, as the order has been processed by our warehouse and is in the queue to be shipped out.
Delivery Policy
Typically packages will be left at your door and do not require a signature.
Damaged Goods
If an item arrives visibly damaged, please contact FENRIR Customer Service immediately. FENRIR will assist customers with these claims to the best of its ability.
ECE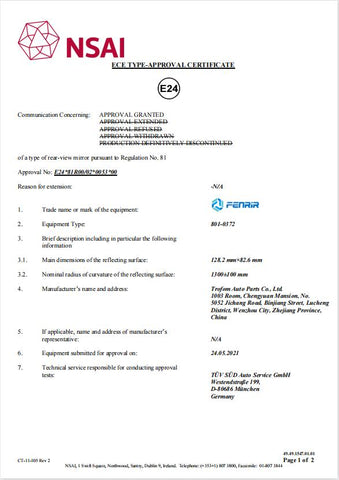 TUV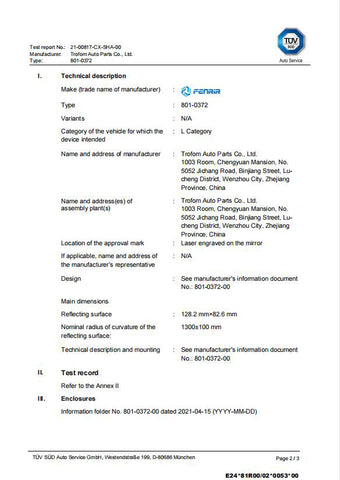 ISO9001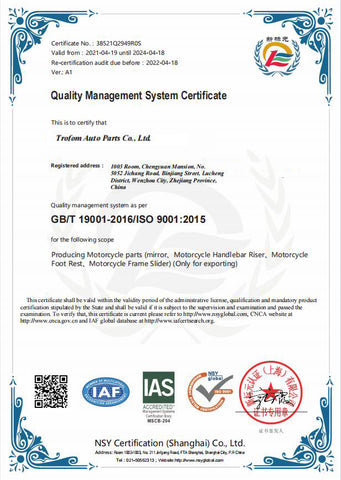 Awesome
Fast shipping, like VERY FAST fron China to Québec/Canada! Thank you
Fenrir mirrors
The mirrors look good but on high speeds the wind pushes the mirror off ballance so every time i take the highway i need to readjust my mirrors (gets pushed downwards from the balljoint)
Perfect fit for MT07
If you want bar-end mirrors on your MT-07 that's the way to go!
Really good quality, looks and feels just like described and works great with bar end mirrors as you can see from the picture!
these are great they r a perfect fit for my 2018 mt07 plenty of room for bar end mirrors to go on and arnt to wide so still able to lane filter with ease