Have Questions? | Habe Fragen?
FENRIR 86.6" 220CM 420D Oxford Cloth Motorcycle Cover Exhaust Pipe Anti-Scalding Waterproof Outdoor Storage for Naked Motocross Street Sports Scooter
Out of stock
Many in stock
customers are viewing this product
We can ship Country
Japan/United States/Germany/France/Spain/Italy/Denmark/Sweden/Finland/Belgium/
Portugal/Ireland/Luxembourg/Netherlands/Austria/Bulgaria/Croatia/Cyprus/
Czech Republic/Estonia/Greece/Hungary/Latvia/Lithuania/Malta/Poland/Romania/
Slovakia/Slovenia

Other countries
please order by amazon:https://www.amazon.com/dp/B08T7D1PM6?maas=maas_adg_A56BCE52132D72D7E552F5A5D0C9C51E_afap_abs&ref_=aa_maas&tag=maas&ref=myi_title_dp
Product Information
Product name: 803-0004

Size: Naked/Sport/Scooter/Dirt Bike

Product model: Motorcycle Cover

Product Material: 420D Oxford Cloth

Product function: Waterproof / UV protection / Windbreaker

Features: Suitable for all weather / Consists of 3 layers of fabric / Water pressure 10000MM / Exhaust pipe burn prevention treatment / All seams are treated with double needles and waterproof beads / Soft inner fabric Protects the body / Has a circulating ventilation system throughout the body / Equipped with three windproof buckles / Front and back drawstrings / Front and back anti-theft locks / Stores cover Bag

About this item

The motorcycle cover has multilayer composite layer structure fabric, which is suitable for hot sun, heavy rain, strong wind and other weather,All Weather Outdoor Storage.Use 420D Oxford fabrics with high durability and water resistance, soft fabrics to prevent internal damage, and heat resistant fabrics.Benefit from extreme sturdiness & real longevity! Here your motorcycle is optimally stored!

The cover has high temperature resistant layer.It can withstand high temperature from the exhaust pipe(1054°F/550°C) or less. There is don't worry about the motorcycle cover being melted. the cover With 2 large lock chain hole on the front and back that is strong against theft Make motorcycles safer.

Nano-level waterproof coating and high grade fabrics, water pressure resistance value: 10000MM (ordinary umbrella number: 500MM). The sealing treatment is implemented from the back of the sewing thread to completely inhibit the water immersion. It can also resist UV on motorcycles damage.

The sides of the body and the mirror part have air circulation design to prevent condensation.Effectively drain the internal humidity. Because the air is easily discharged, it can reduce dust even in strong winds.it has Reflective strip increase visibility at night Warn pedestrians and drivers.

Don't worry about the cover being blown away by the wind. There are 3 windproof buckles and Elasticated strap on the lower part of motorcycle. The windproof buckle fixes motorcycle cover from left to right. front and back has drawstring design enhances the suitability and wind resistance of the motorcycle cover.

Fit Model

CB1300、CB1100、CB1000R、CB900、CB750、CB650R、CB650F、CB600F、CB500F、CB400、CB350、CB300R、CB300F、CB250、CB223、CB160、CB125、CB110、CBF1000、CBF600、CBF500、CBF250、CBF150、CBR1100XX、CBR1000RR-R、CBR1000RR、CBR954RR、CBR929RR、CBR900RR、CBR650R、CBR650F、CBR600RR、CBR600F、CBR500R、CBR400、CBR300R、CBR250R、CBR150R、CBX250、CRF450、CRF400、CRF300、CRF250、CRF230、CTX700、Hornet、NC750S、NC700S、VFR1200F、VFR800F、VTR1000、VTR250、SH350i、SH300i、SH150i、SH125i、PCX125、PCX150、PCX160、XR125、XR150、XR200、XR230、XR250、XR400、XR650R、XR650L

for XSR125、XSR700、XSR900、Fazer、FZ25、FZ6、FZ07、FZ8、FZ09、FZ10、FZ1、FZS1000、FZS600、MT01、MT03、MT07、MT09、MT10、MT125、MT15、MT25、NMAX、SMAX、YZF-R1、YZF-R7、YZF-R6、YZF-R3、YZF-R15、SCR950、TT600、TTR250、TW125、TW200、SR400、VStar250、WR450、WR426、WR250、WR155、WR125、XJ6、XJR1300、XJR1200、XJR400、AG125、AG200F、XT125、XT225、XT250、XT350、XT600、XTZ125、XTZ250、XV250、YZ450、YZ426、YZ250、YZ125、YBR250、YBR125、YBR110、YZF1000、YZF600、FZR1000、FZR750、FZR600、FZR400
Katana、GSXR1000、GSXR1100、GSXR125、GSXR150、GSXR600、GSXR750、GSXS1000、GSXS750、GSXS150、GSXS125、SV1000、SV650、GW250、B-King、Bandit1250、Bandit1200、Bandit650、Bandit600、Bandit400、DR125、DR200、DR650、DRZ250、DRZ400、GIXXER、Gladius、GSR250、GSR600、GSR750、GSX1100、GSX1200、GSX1250FA、GSX1300R Hayabusa、GSX250R、GSX650F、GSX600F、GSX750F、GSX250R、GZ125、GZ150、GZ250、Impulse、Inazuma、 RM250、RM125、RMZ250、RMZ450、RMX450、VANVAN125、VANVAN200、Savage650、SFV650、TU250X
ZH2、Z1000、Z900、Z800、Z750、Z650、Z400、Z300、Z250、Z900RS、Z650RS、W800、W650、ZR7、Ninja1000、Ninja650、Ninja500、Ninja400、Ninja300、Ninja250、Ninja125、Ninja H2、ZX25R、ZX6R、ZX10R、ZX14R、ZX9R、ZX7R、ZX12R、ZZR1400、ZZR1200、ZZR1100、ZZR600、ZZR400、ZRX1200、ZRX1100、ZRX750、ZRX400、Zephyr、Eliminator 、GPZ、KX450、KX250、KX125、KLX450、KLX300、KLX250、KLX230、KLX150、ER6N、ER6F、ER5、ER4N
G310R、G450X、G650、F650CS、F650ST、S1000R、S1000RR、F800R、F800S、F800GT、F800ST、F900R、F900XR、R1100R、R1100RS、R1100S、R1150R、R1150RS、R1200R、R1200S、R1200RS、R1250R、R1250RS、R850R、RNINET、K1200S、K1200R、K1200RS、K1300R、K1300S、HP4、HP2、M1000RR
Super Duke 1290、DUKE125、DUKE200、DUKE250、DUKE390、DUKE620、DUKE640、DUKE690、DUKE790、DUKE890、DUKE950、DUKE990、RC125、RC200、RC250、RC390、RC8、Enduro、EXC、SX-F、SX、SX-E、EXC-F、XCF-W、XC-F、XC-W、XC、SMR、SMC、FREERIDE、SUPERMOTO
Monster1200、Monster1100、Monster1000、Monster950、Monster937、Monster900、Monster821、Monster797、Monster796、Monster795、Monster750、Monster696、Monster695、Monster620、Monster600、MonsterS2R、MonsterS4R、Hypermotard950、Hypermotard、Streetfighter V4、Streetfighter V2、Streetfighter S、Streetfighter 848、Diavel、XDiavel、Panigale V4、Panigale V2、Panigale、Superleggera、SuperSport1000、SuperSport950、SuperSport800、SuperSport S、Scrambler、1299、1199、1198、1098、S4R、S2R、SS750、999、998、996、916、900、ST2、ST4、899、848、750、749、748、620
Speed Triple RR、Speed Triple RS、Speed Triple S、Speed Triple R、Speed Triple RX、Speed Triple、Street Triple RS、Street Triple R、Street Triple RX、Street Triple、Street Triple S、Daytona675、Daytona765、BONNEVILE T100、BONNEVILE T120、Triumph Adventurer 900、Scrambler900、Scrambler1200、Trident660、Sprint、Street Cup、Speed Four、Speed Twin、Street Twin、Thruxton1200、Thruxton900
RSV4、RSV1000、RST1000、RS660、RS250、RS125、Tuono V4、Tuono660、Tuono1000、Tuono1100、Tuono125、MANA、SHIVER900、SHIVER750、Dorsoduro、Scarabeo、Sportcity、Pegaso、SXV、RXV、MXV
 V7、V9、V11、Sport、Nevada、Breva、Griso、Norge、Stelvio
BRUTALE、Rivale、Stradale、Superveloce、F3、F4

Continental GT、Meteor、INT650、Classic 350

BN、TNT、Cafe Racer 、Titanium、Tornado Tre、Velve、Leoncino

GTS、LXV、Primavera、PX、Sei Giorni、Sprint、GTV

BV、Liberty、Typhoon、Xevo、Fly、Beverly

Other If your motorcycle not on this list, please check the product size photo to see if it's suitable for your motorcycle
Standard:
shipping to addresses in the United States , time: 4-10 work days
shipping to addresses in the Europe , time: 10-15 work days
shipping to addresses in the Japan , time: 5-10 work days
shipping to addresses in other country , time: 10-25 work days
Expedited:
shipping to addresses in the United States , time: 2-5 work days
shipping to addresses in the Europe , time: 3-8 work days
shipping to addresses in the Japan , time: 7-15 work days
shipping to addresses in other country , time: 7-15 work days
We understand that when you make an order, you want your gear as quickly as possible and we will do our best to make that happen! Most of the items we sell will ship quickly and be at your door fast. We own four distribution centers, one in US, one in DE, one in CN,and one in JP. Additionally, we work closely with our vendors in order to have the product shipped directly to you from their warehouse if that means you will get the product faster.
Items will have an availability status shown once a size/color is selected on the product page; this availability status will also be shown on the shopping cart page and in your order confirmation email. Most products will be marked "In Stock - Requires 1-3 work days of lead time prior to shipment". These products will ship within 1-3 work days, but if you select an expedited shipping method, please note that this will not reduce the lead time before the order is shipped.
Work days are Monday-Saturday; Holidays and Sunday are not included in shipping days.
While we will do our best to ship from the distribution center closest to you, not all items will always be in stock in every location at all times. In some cases we will split the order and ship each package out to you individually and in other cases we may need to consolidate the items in one location to ship out as one package. We utilize our best judgment in an attempt to get the products to you as quickly as possible.
A shipping confirmation email including carrier specific tracking information will typically be sent within 24 hours of an item shipping. For example, if you place an order Monday night and it ships out Thursday morning, you will receive your tracking information either Thursday evening or Friday morning.
International Shipping Terms & Conditions
Any import duties, taxes or brokerage fees due at the time of delivery are the sole responsibility of the recipient.
Order Cancellation
If you change your mind, act quickly! We turn around and process orders extremely quickly.
Once an order has a status of "Order Processed," it cannot be cancelled or modified, as the order has been processed by our warehouse and is in the queue to be shipped out.
Delivery Policy
Typically packages will be left at your door and do not require a signature.
Damaged Goods
If an item arrives visibly damaged, please contact FENRIR Customer Service immediately. FENRIR will assist customers with these claims to the best of its ability.
ECE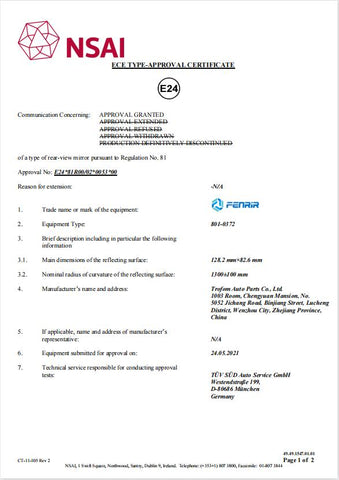 TUV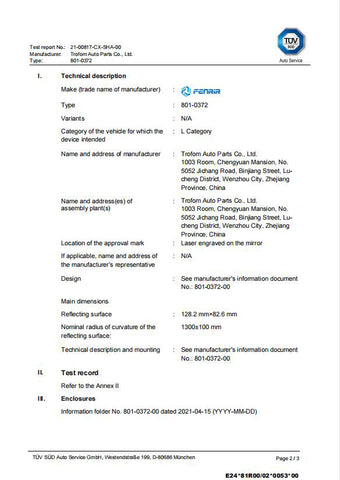 ISO9001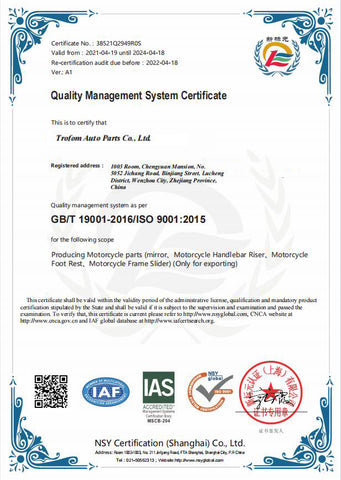 ducati monster 821
Sturdy and fit the standard. It was good
I was very surprised by the excellent quality of the case, very pretty, good thickness nothing to do with others bought from other vendors, it is expensive but the quality is worth it. The seller is not very fast shipping but has arrived fast.